There was a violent ending to the CashCall Futurity, the last graded stakes race for two year old colts this past Saturday. I'm talking, of course, about Violence, the latest sensation to emerge from the Todd Pletcher barn. Violence joins his stablemate Shanghai Bobby as the only two juvenile colts undefeated on two coasts.
Handled adroitly by Javier Castellano, Violence sat patiently behind REALLY MR GREELY, FURY KAPCORI, TITLE CONTENDER and OXBOW. Those four dueled through much of the CashCall Futurity. After skimming the rail around both turns, Castellano turned Violence loose down the stretch. The pair overtook the game but tiring Fury Kapcori in the final strides to win the race by 1 ¼ lengths. Den's Legacy, also by Medaglia d'Oro, rushed from the back of the pack to earn show money. The final time of 1:43.50 was the third slowest since the CashCall has been contested at the 1 1/16 mile distance.
Violence was a $600K Keeneland September Yearling purchase by Black Rock Stable. Their pricy colt is now undefeated in three starts. After winning his debut by a neck in August at Saratoga, the dark bay colt was pointed to the Nashua Stakes (G-2). He dominated the one mile event by two lengths. The field included his highly regarded stablemate, Darwin.
Sire:
VIOLENCE (Medaglia d'Oro - Violent Beauty, by Gone West) has a pedigree filled with promise. His sire Medaglia d'Oro (by El Prado) was a top caliber runner on the track. A late-maturing colt, Medaglia d'Oro made only one start in December of his two year old season, finishing second in a six furlong maiden contest at Turfway Park. Patently handled by his trainer David Vance, the the home-bred colt owned by his breeder Joyce Bell, came back two months later to win a sprint at Oaklawn Park. After his eye-catching score, Medaglia d'Oro was snapped up by Edmund Gann and sent to the late, great Bobby Frankel.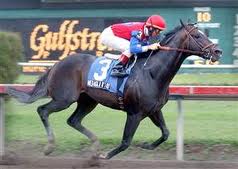 Under Frankel's tutelage, the son of Champion El Prado contested all three Triple Crown races, finishing fourth in the Kentucky Derby, eighth in the Preakness and second in the Belmont Stakes. Very often, the rigors of the Triple Crown sideline horses during the summer and fall. It seems that Medaglia d'Oro thrived on racing. He developed into a sensational runner during his late three year old season and into his four year old season, winning or placing in eleven Grade 1 and 2 races. Despite his talent, Medaglia d'Oro's Achille's heel was the distance of 1 ¼ miles. He was successful only once at the classic distance in six tries, including two failed attempts in the Breeders' Cup Classic.
Retired to stud as a five year old after finishing second in the Dubai World Cup, Medaglia d'Oro quickly set about proving his value as an exceptional sire. His first crop included eventual Horse of the Year Rachael Alexandra, Grade 1 winners C S Silk, Gabby's Golden Gal and Warrior's Reward, plus 22 other offspring that would earn blacktype. With only five crops on the track, the magnificant stallion has produced one champion, 18 graded stakes winners and 35 stakes winners. Five of his stakes horses have won at 1 ¼ miles, but only over turf. Rachel Alexandra came closest to winning at 1 ¼ miles on dirt when she captured the 1 3/16 (9.5 furlongs) Preakness Stakes. She finished second at 1 ¼ miles in the Personal Ensign after dueling on a suicidal pace. Another runner, Grade 2 winner Alma D'Oro finished third in the 1 ½ mile Brooklyn Handicap. Like their sire, Medaglia d'Oro's progeny are slow to mature and generally hit their stride as three year olds. They are primarily superior over dirt, mud and turf, but are average over Polytrack.
MEDAGLIA D'ORO (El Prado (IRE) - Cappucino Bay, by Bailjumper)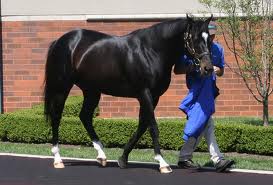 Race record:
17-8-7-0 ($$5,754,720)
Racing highlights:
1
st
- Travers Stakes (G-1) – 1 ¼ miles
1
st
- Whitney Handicap (G-1) – 1 1/8 miles
1
st
- Donn Handicap (G-1) – 1 1/8 miles
1
st
- San Felipe Stakes (G-2) – 1 1/16 miles
1
st
- Jim Dandy Stakes (G-2) – 1 1/8 miles
1
st
- Strub Stakes (G-2) – 1 1/8 miles
1
st
- Oaklawn Handicap ( G-2) – 1 1/8 miles
2
nd
– Belmont Stakes (G-1) – 1 ½ miles
2
nd
- Breeders' Cup Classic (G-1) – 1 ¼ miles (twice)
2
nd
– Dubai World Cup (UAE Gr. 1) – 1 ¼ miles
2
nd
- Pacific Classic Stakes (G-1) – 1 ¼ miles
2
nd
- Wood Memorial Stakes (G-1) – 1 1/8 miles
Female Family:
Violent's female family is filled with Champions, although one must go back two generations to pick up the trail. His dam Violent Beauty (Gone West – Storming Beauty, by Storm Cat), a homebred of Dell Ridge Farm, finished off the board in her only start at two. She was away from the races for seven months. Violent Beauty placed in three maiden races in her three year old season, and again was away from the track, this time for almost nine months. She finally won her maiden, a six furlong event, in March of her four year old year. She raced twice more, hitting the board once before retiring with a 7-1-1-3 (

$50,999) record.
Violent Beauty is a young broodmare. She has two runners on the track, Violence and his half brother Laertes (by Shakespeare). Laertes won a seven furlong turf sprint at first asking last year, but isn't in training. Violent Beauty foaled an unnamed Candy Ride filly in 2011 and has a Tiz Wonderful weanling.
One has to skip two generations to find the class in Violence's pedigree. Neither his dam and her siblings nor Violence's second dam own blacktype. However, Violence can claim the incredible Sky Beauty as his third dam. In 1993, Sky Beauty won the Filly Triple Tiara (Acorn Stakes, Mother Goose, CCA Oaks). She holds the distinction as the last filly to do so. Sky Beauty also won that year's Alabama Stakes, but lost out on year end Championship honors to Hollywood Wildcat. A year later Sky Beauty earned recognition as Champion Older Mare. Despite being bred to the top stallions, Sky Beauty produced only one blacktype winner, Grade 3 winner Hurricane Cat, the full brother to Violence's second dam, Storming Beauty.
Violence's fourth dam Maplejinsky also won the Alabama Stakes and also the Monmouth Oaks. Her daughters bore the graded winners Pleasant Home, Pine Island, Point of Entry and Tale of Ekati. Going back one more generation, Violence's fifth dam is the Champion Sprinter, Gold Beauty. Dam of Champion Three Year Old Dayjur.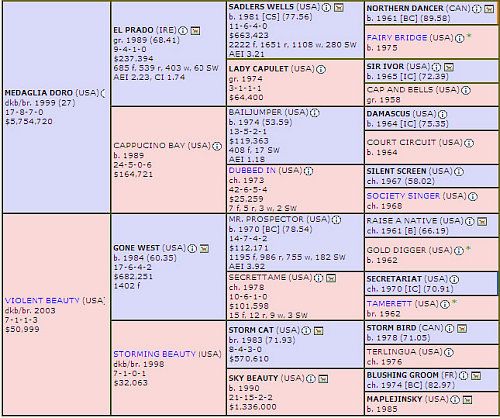 Damsire:
Gone West, Violence's damsire, won or placed in 12 of 17 attempts while racing at the top levels. He competed with a strong crop of three year olds which included Alysheba, Gulch, Cryptoclearance, Java Gold and Polish Navy. He was triumphant in the Dwyer (G-1), Gotham and Withers Stakes.
Gone West, a son of the Mr. Prospector sire line, is highly ranked on the broodmare sire lists. His daughters have produced 17 stakes winners, five over dirt, which have won at 1 ¼ miles or farther. They include last year's Belmont Stakes hero Union Rags, Suburban Handicap winner Frost Giant, Epsom Derby Champion Motivator, and La Prevoyante winner Herboriste. Gone West is also the damsire of Eclipse Champion Juvenile Filly Awesome Feather.
GONE WEST(Mr. Prospector - Secrettame, by Secretariat)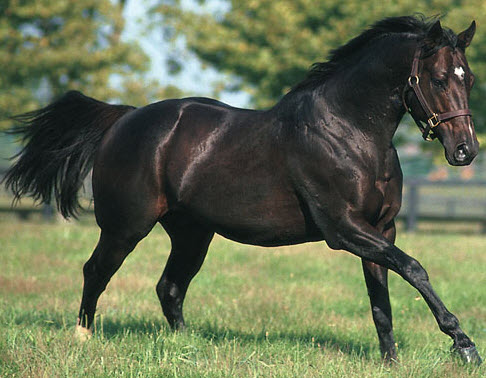 Race record:
17-6-4-2 ($682,251)
Racing highlights:
1st - Dwyer Stakes (G-1) - 1 1/8 miles
1st - Withers Stakes (G-2) - 1 mile
1st - Gotham Stakes (G-2) - 1 mile
2nd - Wood Memorial (G-1) - 1 1/8 miles
2nd - Peter Pan Stakes (G-2) – 1 1/8 miles
2nd - Hutcheson Stakes (G-3) - 7F
The Medaglia d'Oro/Gone West bloodline cross is tried and true. There have been eight starters, five winners, one stakes winner and one stakes placed runner based upon this pairing.
Summary: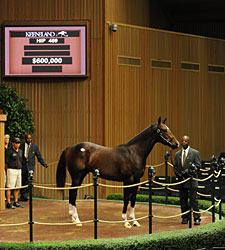 Violence is a well-muscled, balanced, athletic colt. He has the conformation of two-turn router. He has a smooth gait with good extension and without excessive movement. He appears to be an intelligent horse who works well with his jockey. Violence appeared slightly green in the stretch of the CashCall Futurity. He hesitated to go by the horse on his inside, then pricked his ears strides from the wire. Violence's pedigree is slightly borderline for 1 ¼ miles. He carries stamina on his distaff side and if he continues to improve, Violence may become his sire's first dirt winner at 1 ¼ miles.
Violence will spend the winter at Palm Meadows Training Center in Florida. He will resume his racing career in February possibly in the Fountain of Youth or Risen Star.